Customer Reviews
Write a Review
Ask a Question
Filter Reviews:
items
pockets
design
ease
anything
supplies
value
vehicle
Foldanizer
system
05/22/2020
Troy
United States
The Real Reason This Is Amazing!
If your an EMT or trained in first aid you can operate out of a bag loaded with toys, but what happens when you're the one being treated? Well that's exactly what happened to me. I was at the beach with my girlfriend and as I was grabbing the beach bags...BAM! My finger gets caught in a closed door. I free my finger but now the person who's professionally trained in first aid is the victim. Where this kit excelled was in it's ease of use. I was able to verbally walk my girlfriend through the process. 1. She didn't have to find the bag because it was already at the back of the seat. 2. It folded open so she didn't have to move it and was able to work out of a preset up kit. 3. It is so well organized that I could give her a rough idea of where items where. 4. The mesh pockets allowed her to visually scan and find the correct items without having to dig through a huge EMT bag. I have had and seen a lot of car first aid kits, but after this incident I will only be purchasing the ITS Vehicle First Aid Kit. Thank you ITS.
04/27/2020
Scott R.
United States
VFAK works like a charm
Ordered the VFAK and a handful of additional medical supplies to fill the pockets. I did not mount it to the headrest and instead have it mounted to an RMP. It's a great kit. I managed to fit everything in or on the VFAK (had to be a little creative at times). Only things I wish were that the red pouch was available with the kit vice the black only option (ordered the red separately), the "foldanizer" was a little bit longer (once the med kit is packed, and items placed in the foldanizer pouches it's barely able to seal on the Velcro, especially with anything stiff in the pockets that don't roll easily, and there was a couple of MOLLE loops to attach the TQ kit to (not a lot, just a couple on the top or bottom for the TQ kit or other random rolls of COBAN or similar).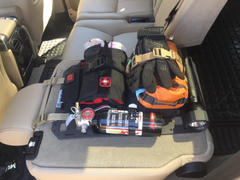 04/10/2020
Laurie G.
United States
Vehicle Kit
Perfect for my vehicle. Added the CAT and some Quick Clot.
12/13/2019
William M.
United States
Great Kit
Really cool design with a lot of pockets to organize all the included supplies. The nylon zip bag can be used to store additional larger supplies you with to add such as a tourniquet, gauze, or safety shears.
11/09/2019
Melissa J.
United States
ITS Vehicle First Aid Kit
Great design. The mounting system is genius. I chose to break down the BooBoo kit and place the items in the pockets for ease of use. I am using the large zippered pocket for larger abd pads, 4x4's, combat gauze and a swat t tourniquet. Overall I really like this product. My only recommendation is to ditch the cheap tweezers and the cpr mask. AHA promotes hands only CPR anyway. Either throw in some more 4x4s or a better pair of tweezers. Get it you will love it!