Customer Reviews
Write a Review
Ask a Question
Filter Reviews:
pouch
Gear
Works
flap
service
emergency blanket
Fatboy
gripe
Medical
WF
02/22/2020
William F.
United States
Pretty good gear
While I was not initially thrilled at the price ($60 for an EMPTY pouch), I bit the bullet becuase it's made in America (important!!) and the company is disabled-veteran-owned which is super important to me (paying it forward is how to roll). Fortunately, there is ZERO DEFICIT when it comes to the quality, ruggedness and durability of the pouch. Bought two so I'll always have one handy!
01/25/2019
Josh B.
United States
Awesome mid-sized BOK
The Fatboy ETA pouch is a great mid-sized Medical/Trauma kit. I stuffed two T3 Israeli Bandages, a Space Blanket, a Triangle Bandage, and have room yet. This kit is almost the same height and concave shape as the TourniQuick pouch (mine are side-by-side) so they make a perfect pair. I guess my only gripe would be no place to keep full-sized trauma shears (like an HSGI Bleeder Pouch). Otherwise, I REALLY like this pouch.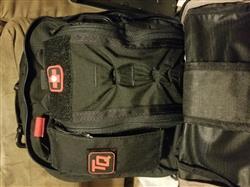 01/14/2019
James J.
United States
Would recommend.
Works as advertised. I'm a team medic with one of these mounted to my PC. Basic blow out kit with narcan in there. Probably going to buy another at some point.
01/13/2019
Terry R.
United States
Fatboy is great
I've purchased numerous trauma kits from ITS and the Fatboy lives up to their quality and usefulness. Ive recommended their gear to a lot of the guys I work with. Awesome product
Awesome Upgrade
I have been running standard issue IFAKs for a while now. Single flap, Velcro/ clip closure, removable sleeve. Got a few good ones from my time in service. I liked them for a time, but there is not a lot of versatility with how bulky the thing is. I'll say this about this pouch though: Worth every cent. Great construction, rapidly accessible in deployment. And best thing is, the sleeve from the army issue IFAK fits without compromising deployment; as long as you stick to what's necessary. In my sleeve I run 2 ace wraps, 2 gauze rolls, an NPA (got a new one from ITS with this order), 4 4x4 gauze pads, emergency blanket, antiseptic wipes, and a CAT tourny. I'm going to add chest seals shortly and I'm confident they will fit. And like I said, it still opens as fast as you can rip it. All in all, great buy.